Introducing…
foxL
The first pocket-sized music system
good enough for audio purists.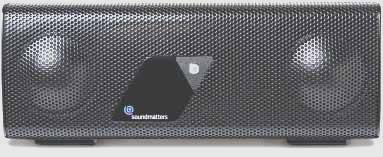 foxLmb portable stereo loudspeaker

with wireless Bluetooth stereo for music streaming

and noise/echo-cancelling microphone for hands-free phone conferencing

foxL defies conventional wisdom about sound – a miniature audiophile portable music system that turns the palm of your hand into a personal amphitheatre. Available wireless Bluetooth stereo. Wall or battery powered. For iPod/mp3 players, laptops, mobile gaming, and more.

Two 1-inch diameter, patented, Linear Magnetic Drive™ Twoofers™

tuned to 100Hz

deliver eight full octaves of music for smooth vocals & extended bass well beyond

any similar-sized speaker.

Patented FlatMagic™ bass radiator, originally developed for the revolutionary

SUBstage™
home theatre subwoofer,
extends bass by an entire octave… and the protective grille
doubles as a foldout
speaker stand.
Features
• High-resolution fidelity, pocket-sized portability
• Listen wirelessly* or connect to any music source via standard audio cable
*(foxLmb with Bluetooth 2.0 ADP2 compatible music device)
• Phone conferencing/hands-free speakerphone**
**(foxLmb with Bluetooth compatible phone or computer)
• Up to 5 hours battery life, output wattage doubles when wall-powered
• Lithium-ion BassBattery™ re-chargable via USB or wall charger
Specifications
Battery Life: up to 5 hours
Power: 4W x 2 <0.1%THD, 5V in
2W x 2 <0.1%THD, 3.6V in
Output Level: 95dB @ 0.5m, 5V
92dB @ 0.5m, 3.6V
Freq. Response: 80Hz–20kHz (DIN 4500)
Connections: power in, audio in, sub out
AC Adapter: 5V 2A Max 10W
Accessories: included: AC adapter, USB cable,
3.5mm audio cable, pouch, wrist strap
Dimensions: 143 x 55 x 35 mm (5.6 x 2.2 x 1.4 inch)
Weight: 269 gram (9.5 oz)
The Company
Founded in 1998 as an R&D company by physicist, former NASA engineer and audio design legend Dr. Godehard Guenther, soundmatters utilizes its patented and proprietary technologies to provide a range of uniquely-small, internationally-acclaimed, high-fidelity audio solutions.
Please click here for a brochure